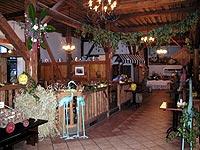 Meeting and celebrating in optimal surroundings
The spacious meeting and event center offers 6 rooms with a total size of 400 m² and a event hall with 1.400 m² for up to 1.000 people (e.g. for concerts.) All 6 rooms of the meeting and event center are equipped with dividing walls. The areas can be used as conference rooms with 60 to 65 m² each or as individual larger rooms for celebrations (for example, 2 x 150 m² or one large celebration hall with a size of 400 m².
All rooms provide daylight, integrated screens and window coverings. The hotel-own park can be accessed from every room. We satisfy all technical needs with prior arrangements.
Coffee breaks, cocktail receptions and dance events can be held at the bright, spacious lobby.
The southwest side of the chateau is protected from the wind and suited especially for presentations, barbeques, weddings and birthday celebrations at the park.

The Event hall
The spacious Event hall with a size of 1.400 m² is located ca. 200 m from the chateau. The equipment offers optimal possibilities for professional presentations.
For further information please complete the form below and click on send.